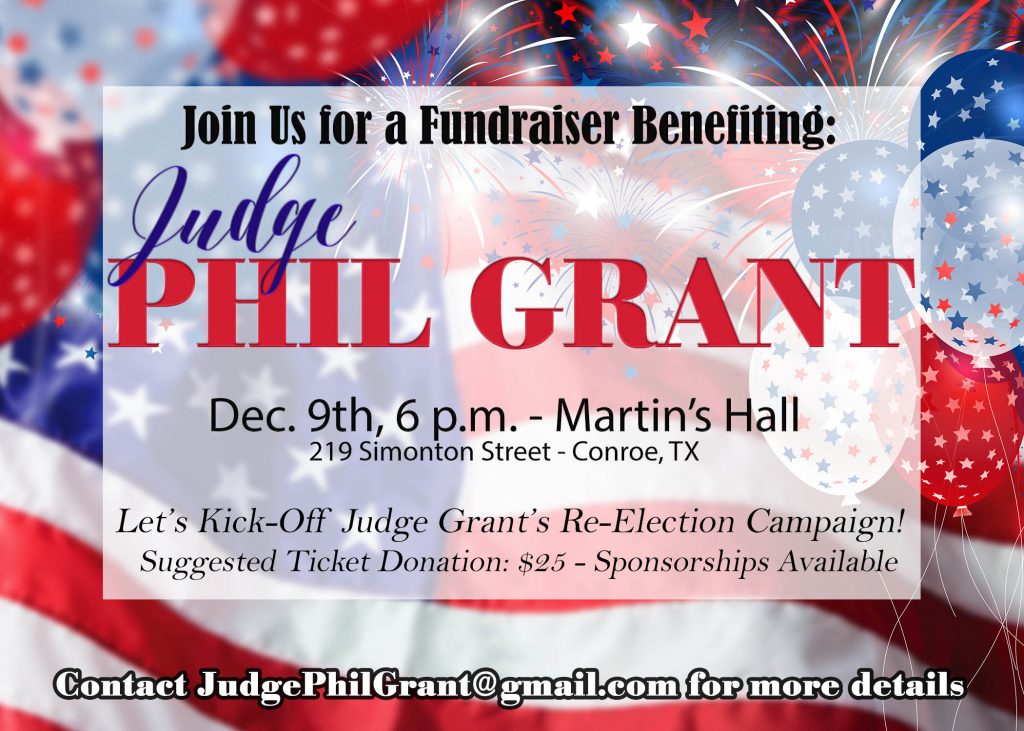 Join us as we kick off Judge Grant's 2020 Re-Election at Martin's Hall in Conroe.  Tickets are $25 and include dinner and drinks.
Purchase Tickets Online (Make a Selection from the Drop Box Below, and Then Click on "Buy Now").  Upon completion of purchase through PayPal you will be re-directed to a form that must be filled out for accounting purposes, per the Texas Election Code.  Please, no corporate card purchases.  See disclaimer at the bottom of this page for more explanation about what payment types are allowed:
Purchase Tickets by Mail: Print form here and mail non-corporate checks to:
Phil Grant Campaign
PO Box 558
Pinehurst, TX  77362
Note on Prohibited Donations: The Texas Election Code puts restrictions on donations to political accounts.  The code does not allow contributions to campaigns from corporate accounts.     The following associations, whether incorporated or not, are considered to be corporations covered by this prohibition: (A) banks;(B) trust companies;(C) savings and loan associations or companies;(D) insurance companies;(E) reciprocal or interinsurance exchanges;(F) railroad companies;(G) cemetery companies;(H) government-regulated cooperatives;(I) stock companies; and(J) abstract and title insurance companies.  Please, send only personal or PAC checks.  Certain businesses are allowed to donate if the business is not incorporated, not listed above as prohibited, AND IS NOT OWNED BY A CORPORATION.
Judicial Limits: The Phil Grant Campaign is in compliance with the Judicial Campaign Fairness Act.  Please, no corporate donations or donations in excess of $2,500 for use in 2020 Republican Primary ballot.  This limit applies to total contributions, both monetary and in-kind, from an individual or from an entity in connection with an election.
Contributions to the Phil Grant Campaign are not tax deductible for federal income tax purposes.